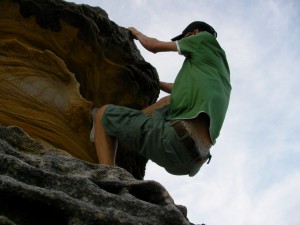 In attempting to find freedom from any sin and shame cycle, and particularly from sexual sin and shame, some strategic steps must be formulated and pursued, and a beginning point is this very critical truism: A Man or Woman Becomes What He or She Thinks About All Day Long. With this truism locked in our minds, let's consider the following:
First, we must cast a vision for something far better than where we are; paint a picture for who we wish to be. One of King David's most memorable prayers is found in the middle of Psalm 61:2, wherein he says from a faint and weary spirit, "Lead me to the rock that is higher than I." With these words King David cast a vision for someplace better than where he found himself. He longed to reach beyond his grasp, to attain something transcendent, and to move in that direction. The other day I was having lunch with my friends Dale Wolf, who is the senior pastor at Atonement Lutheran Church, and Dave Motta, the senior pastor at Calvary Methodist Church. The three of us were just stepping out of the restaurant when we spotted this elderly couple shuffling along the sidewalk heading toward their car. Our guess was they had been married about sixty or sixty-five years. Without thinking I pointed to them and exclaimed to my friends, "That is my dream!"
And it really is. It's part of my vision for my life, to grow old with my dear Christa and shuffle along hand in hand, as were they. Painting a picture of where I want to be as a man, who I want to be as a person, the kind of legacy I wish to be known for within my realm of influence, et cetera, goes a long way toward pulling me up from the mire that I might find myself in. It gives me a place to go. And in a (Christian) world that expects me to manage sin by living according to numerous rules and regulations, having a vision beyond the values sets me apart and keeps me from merely circling the sin-management drain. When I think about that all day long, I suddenly am not thinking about whatever sin or shame besets me.
Secondly we must walk a responsible pathway toward the dream. Isaiah 26:3 helps us process this pathway. "You keep him in perfect peace," Isaiah says to the Lord, "whose mind is stayed on you; because he trusts in you." There are some very important words and pictures in this verse that merit some discussion. First, the Hebrew word for "keep" (shalowm) implies a military garrison that is embedded within a town or city with the purpose of keeping the peace within the city walls and protecting the city from external threats. Our God is so good that he would resource us with such internal blessings. He implants within the follower of Jesus a spiritual garrison tasked with maintaining order and defending us. When we visualize this and believe that God is this faithful and just, and process the implications of this reality for our lives, it begins to increase our confidence and faith as we deal with the shame and sin cycle. This is especially so when we consider the next line. Within it are two words to focus upon: mind and stayed. The "mind" refers to not just the book-smarts of a person, but the imagination and all that is a part of processing our lives and dreams. It's the whole of our cognitive abilities, focused like a laser on God, being "stayed" upon him. And the word for "stayed" (camak), suggests leaning on or affixing oneself to something for the long haul.
Thus the pathway toward the dream or vision is that we accept God's internal resourcing as provided by the Holy Spirit, affixing the entirety of our imagination and thinking upon him, volitionally aligning ourselves to him in trust and faith. You might push back and say there is no way this works, I have a job and I have family, I can't possibly focus like that. And yet the reality is we who push back may be spending an inordinate amount of time focusing upon deviant things that trip us up each day. Colossians 3:1 finds the Apostle Paul exhorting us to think on things above. In so many ways the invitation to this pathway is an invitation to take our mental energy and redirect it.
Lastly, we must consider Joel 2:25. Herein we find the Lord God declaring that he is able to restore to Israel the years the locusts have eaten. Of course, this is a marvelous picture of redemption and restoration. For the Israelites, the need is rooted in years of finding their crops destroyed by invading armies of men and, particularly, locusts. They would plant only to come up empty-handed.  And is this not such a powerful picture of the lives many of us lead? We invest in this thing or that only to come up empty-handed. And at the moment we find despair sinking in, God interrupts and declares, "I can make up for all that is lost. I can restore you." He can completely rebuild our devastated souls. He can take what was shattered and mend it.
Have you lost your virginty in an illicit way? Have you had an abortion so as to deal with sexual mismanagement? Have you been victimized by someone else's sexual escapades and now you are convinced you are trash and unworthy of anything good? Have you been the rebel determined to conquer the sexual world? And now you are ashamed, afraid, embarrassed, lonely, worried, wounded, and beaten up? "I will restore unto you the years the locusts have eaten," the great God says to you.
But there is one necessary thing required, and it is found earlier in the chapter in Joel 2:13. "Rend your hearts and not your garments," the Lord God says. In a world wherein the people of Israel would rip their clothes as a sign of grief and repentance, God says, "Move past that. Forget ripping the clothes open. Rip your hearts open to me. Let me work there! Break open your hearts that true healing might begin."
And that is the invitation, ultimately, for any of us caught up in the sin/shame cycle of sexual distortion. Are you struggling with gender identity issues? Are you dealing with an attration to pornography? Are you lingering too long at the water cooler where that other man's wife also lingers? Are you enmeshed in the many pages of one erotic fantasy novel after the next? Are you compulsively masturbating or manipulating or managing many sexual encounters? Wherever you are God can meet you and help you. Cry out to him. The simplest plea he will hear. Cast a vision for someone better to become, invite the Holy Spirit to come and resource you toward that dream, begin to fantasize, as it were, about Jesus and all he did in his earthly life, and watch God melt the hardness of heart away and soften you that you might find the dark clouds of fear, isolation, shame, and sin diminish. And, ultimately, repent of your determination to live short of his standard; his best. The Lord never turns away from the penitant cry. He will never make you feel ashamed when you come to him (cp. Romans 10:11).
"I will restore you the years the locust have eaten," declares the Lord.
And he will.
"Write This Down…" provides a restatement of selected points or observations from various teaching venues at which Pastor Matthew speaks. The preceding material is from Pastor Matthew's sermon entitled, "Redemption and Restoration," part of the sermon series entitled, "Crazy Sex: Embracing God's Best in a World Gone Crazy," and presented on the weekend of May 29, 2011, at Bethel Church.