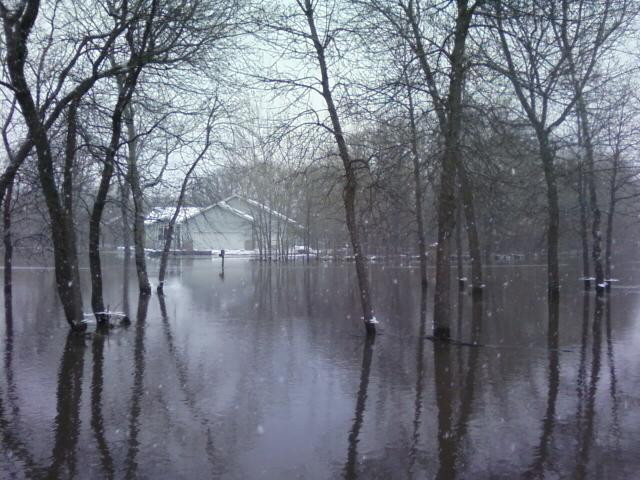 Yesterday, March 28, 2014, marked the fifth anniversary of the crest of the record-smashing Red River Valley Flood. Our home, located as it is in the Oakport Township just north of Moorhead, Minnesota, and Fargo, North Dakota, was right in the middle of one of the "ground zeroes" that were randomly scattered  up and down the swollen Red River of the North. The picture to the right says it all, taken from my front porch, exactly five years ago today.
I don't ever again want to have to endure such an intense and frightening week as that week in 2009. At the same time, my gratitude for going through it is deep. I'm glad we struggled through it. It was one of the most remarkable and memorable things I have ever experienced in my entire life.
God' grace is beyond comprehension. He meets us in our times of need in ways that surprise us and even confound us. He does not tell us we will avoid life's floods. But he does assure us he will be in the middle of them with us. Repeatedly in 2009, and now, five years later, the words of Isaiah 43:1 and following echo through the ravines of my soul. Read them carefully:
[quote]But now thus says the LORD,
he who created you, O Jacob,
he who formed you, O Israel:
"Fear not, for I have redeemed you;
I have called you by name, you are mine.
When you pass through the waters, I will be with you;
and through the rivers, they shall not overwhelm you;
when you walk through fire you shall not be burned,
and the flame shall not consume you.
For I am the LORD your God,
the Holy One of Israel, your Savior.
I give Egypt as your ransom,
Cush and Seba in exchange for you.
(Isaiah 43:1-3 ESV)[/quote]
If you find that your life is this very day ground zero to some overwhelming flood of conflict, fear, regret, shame, worry, physical challenge, strain or so forth, then pause for just a moment, re-read the passage set above, and hear the Lord's mighty voice say to you, "Fear not!" Picture him walking with you "through the rivers." Thank him with even the slightest or most hesitant faith, that such "shall not overwhelm you," because God is with you.
Always.
[fblike]