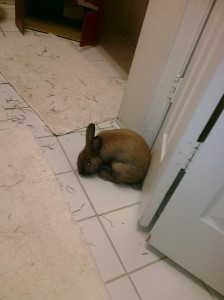 As if the fact that God has redeemed a stiff-necked sinner like me isn't enough to demonstrate his grace and power, I need look no further than a boy named Kirby. Lost on the streets of Dallas, no home, hungry, and all alone, what happened to Kirby is a portrayal of grace, much like David's gift to Mephibosheth in 2 Samuel 9:1 and following.
But you need to know that Kirby is not your typical boy. You see, Kirby is a rabbit.
My precious sister-in-law Cathy and her amazing husband Doug have for years worked to help domestic rabbits that are abandoned or have already been rescued but need some tender-loving-care. They even have a rabbit sanctuary tucked safely away within the confines of their spacious Dallas, Texas, home. And for Heaven's sake please do not suggest to anyone that they give or get a rabbit for Easter. This is simply not right in the world of Cathy and Doug. The best Easter bunny is chocolate. Anything real is set up for failure in almost every situation.
Anyhow, the other night Doug is pulling out of his driveway and he notices there on his front porch this mottled, brown bunny. Because Doug is an expert on the difference between domestic bunnies and wild bunnies he knew instantly this was a domestic rabbit, and he could tell by the looks of it that it was lost. Quickly he and Cathy brought the bunny into their home. It now lives in that aforementioned sanctuary within their home, safe and secure and very, very happy.
So here's the deal. Are we to believe that of the thousands of homes located within five minutes of Doug and Cathy's house, this rabbit knew that they would be the ones to bring him in and care for him? Of all the homes he could have gone to, he ended up at their home. Are we to believe this is totally by coincidence? And this doesn't even consider the fact that one of Dallas' busiest roads runs right along Doug and Cathy's property line. That Kirby the Rabbit even arrived in the driveway alive is a miracle enough. That he arrived at their driveway is way over the top. There are no other experts on rescuing lost domestic rabbits in that whole area of town! But it appears the rabbit knew they at least were there.
Or God knew.
And therein is my fascination. I am convinced that God directed this little critter straight to their doorstep. God knew they'd take him in, give him a warm bed, a dignified name like Kirby, and restore happiness to his scared rabbit heart. God knew there were no more perfect people than Cathy and Doug to step up and help this poor little bunny. Indeed, Proverbs 12:10 tell us that whoever is righteous has regard for beasts. Can I just say that I am blown away (once more!) by God's amazing grace?
And if his grace is so great that a diminutive brown, mottled rabbit can find safe haven, don't you think God's grace is sufficient for you? For your loved one? For your family or friends? Of course it is! And that is worth a huge dose of gratitude. Jesus says in Matthew 6:26 that we are to notice how the Father takes care of the animals. And just at the moment you and I nod our heads and reflect warmly on that reality, then Jesus adds, "Are you not of more value than they?"
Of course you are! And the blood of Christ loudly declares this to be so. Perhaps sometime this week, in the midst of all the Thanksgiving hubbub, it would be worth pausing and telling the Father "thank you" for the fresh start he bought you at Calvary. And buys you everyday!
And you might thank the Father for Kirby's fresh start, too.