Imagine that at Christmas you take the money you spent for that sweater and you use it instead to help build a water well in Cameroon. Consider the power of Christians all over the world praying that a lasting peace would settle down upon the war-torn nation of Sudan. Think of the freedom and joy you could have were most if not all of your personal financial debt eliminated, freeing you to lack distraction and worry so that you could love those in your realm with greater power and impact. What would it be like to show the love of Jesus to a homeless man even occasionally while placing a ladle-full of piping hot eggs onto his paper plate?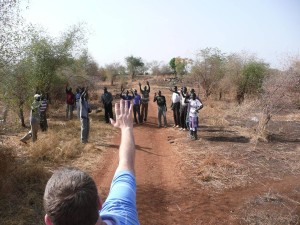 And in all of this the contagious, gregarious, intentional, transformative, and redeeming love of Christ is displayed.
By you. And me. To a world that is starving for something that only Jesus can give: relief.
Relief from fear.
Relief from starvation.
Relief from spoiled drinking water.
Relief from isolation.
Relief from passivity.
Relief from abuse and hatred and discrimination.
Relief from legalism, in all of its vast array.
Relief from bondage to no end of disfunctions, distractions, damnation, and depravity.
Relief because of a relationship, forged on the anvil which is a rugged cross, between Emmanuel and the broken child, woman and man.
What if engaging my realm of influence meant that I do more than moralize over this thing or that, but that I really act with decision to influence a broken life with the unbroken power of the Holy Spirit living within me? What if I not only saw the hurting old woman but bent down and kissed her on the cheek and later ensured that she had her medicine paid for? What if I paid careful attention to the cashier who seems so agonized with weariness and said a gentle word of gratitude to her? What if I intentionally chose to roll back my financial obligations so as to empower my family to give more generously toward God's Kingdom rather than my own? Would Jesus rejoice? Would I?
O to be like the Macedonians of those ancient days, who begged "for the favor of taking part in the relief of the saints" (2 Corinthians 8:4)! They "gave themselves first to the Lord and then by the will of God to" others (verse 5). Shall I—indeed, we—do nothing less today?