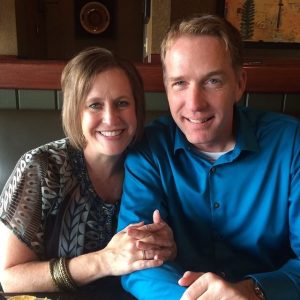 It began about a year ago—an unusual journey of receiving and waiting and grieving and anticipating. The culmination of this special season is that beginning in August, Christa and I will be replanted with me as the senior pastor of New Hope Church in the Minneapolis metro.
Over the past twelve months or so, and much to our surprise, Christa and I have had about a dozen different ministry opportunities come toward us; opportunities that would take us away from our beloved Bethel Church. Some of these bore a unique significance, and the idea that we would even be asked to consider some of them remains an honor that we will always carry with us. Among these prospects were many different churches and a small handful for parachurch roles.
It didn't take long for me, at least, to feel profoundly overwhelmed. In the midst of receiving these invitations to consider these ministries, we began to really grieve the notion of leaving Bethel Church. Bethel Church is a healthy and stable place with a wonderful commitment to help the spiritually hungry experience the life-changing power of Jesus. We are invested. We love these people and this whole community.
But the Lord seemed determined to loosen our soil. With each opportunity that came our way we took on a growing understanding that God desired to replant us. We prayed diligently. We fasted. We cried out to God for understanding. We told Him regularly that we were not wise enough on our own to process what He was doing. So we asked Him to close those doors that were not for us, and to push us through the one that was.
And that He did. New Hope Church is a phenomenal Evangelical Free Church situated in the western part of the broader Minneapolis area. It has this high and holy calling to become one of the leading multicultural churches in the Evangelical Free Church movement—a Christ-centered community for all peoples. What they could not have known about us, and we likely did not fully appreciate about ourselves, is that if there were one thing our family has really missed since leaving Dallas is ethnic diversity. We celebrate the beating heart of God for the beauty of all peoples and tribes and tongues coming together. The idea of stepping into an environment that is so uniquely poised to grow in this regard is extremely exciting to us. And leveraging such a high and holy calling for a strategic global, Kingdom-minded reach, strikes a very deep chord within us.
But with such change comes for us some measure of pain. We dearly love our Bethel Church family. We believe in what God is doing in this region of the country, through an amazing staff and trusted elders and some of the most special people we have ever known. As we leave our hearts are very full; indeed, over-flowing. These several years in Fargo-Moorhead have been years of great healing, joy and fruitfulness for which we are very thankful.
For our New Hope Church friends with whom we are beginning a special journey, know that we are eager and humbled and anticipating knitting our hearts together for a noble Kingdom-cause. Lord willing, we will be stepping in formally in early August. We are praying for favor, wisdom, energy, protection, and the kind of vision that can bear real, lasting fruit.
For our Bethel Church family that we so greatly love and for whom we give thanks, as you step into the days ahead I need you to know four things. These are very important. First I need you to know that I have complete confidence in Bethel's elders. They are godly men who treasure the Bethel family and will trustingly depend on the Holy Spirit for God's counsel. You can count on them to lead you well. Secondly, I really believe in our staff. Every single one of them are sterling people filled with God's Spirit. They are lovers of the church who serve superbly. Support them and trust them to care for you. Thirdly, I want to invite you to lean into each other. God does marvelous things during pastoral transitions. Many churches find a special grace during such times. Stay together. Rejoice in God's favor. Believe in God's care and provision. And anticipate that He already has in mind that special person who will fill the role of being Bethel Church's next senior pastor.
Lastly, pray. Pray for the unity of the Spirit and the bond of peace. Pray for wisdom from the Holy Spirit. Pray that encouragement would flood into the souls of Bethel's elders and staff. And pray that God will continue to bring spiritually hungry people across your pathways, so that as you move toward Jesus you can take them with you.
One of the beauties of the Body of Christ is the eternal bonds that shall never be broken. This truth brings deep solace to our souls as we step away from people we love and embrace new friends. When all is said and done, we are bondslaves to Jesus our Lord, and our partnership under His authority will really never, ever end. Oh, what joy that truth brings!
[fblike]