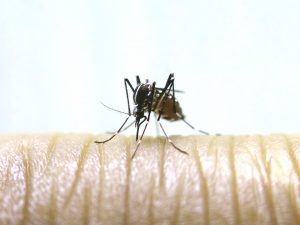 In glorious Minnesota, where I live, the days are getting longer, the sun feels warmer, and the birds are singing. Spring is upon us and our beloved land is thawing. But with this warmth also comes the dreaded mosquitos and the ensuing war we wage against each one.
Yet this awful flying devil has been on my mind long before now, even in the dark and frigid days of winter. For me mosquitos have provided an excellent word picture for a war much greater than that raging around a thousand picnic tables, at lake side docks, and on sprawling golf courses. They have become emblematic to me of spiritual war. Indeed, I have thought about this for months.
When God is on the move—really on the move—a supernatural friction develops. Disciples find their souls animated toward still greater Kingdom values and vision. Strangers to Christ become followers of Christ, which, by God's sheer mercy we are seeing quite often in our corner of the Kingdom. Walls of hostility, built with the rough bricks of racial discord, political enmity, and fear are beginning, slowly but indeed surely, to crumble. Purity is replacing filth. Honor is transplanting shame. Power is overcoming fear. Forgiveness is driving condemnation away. All this movement creates friction. Holy friction creates holy heat. And this holy heat brings out those metaphorical unholy mosquitos.
And these tiny but potent devils work feverishly to harass and sting and drain the life out of us. Every little prick is a prick designed to undo the work of The Moving God, so that fear takes over again, the walls of hostility get stabilized, and newly redeemed souls get disillusioned. The annoying whine of the natural mosquito is nothing compared to the minions of darkness and their wicked whispers of woe—lies which penetrate the weary mind and echo through the caverns of worn out souls. The greater the heat produced by the majestic moves of the Most High, the more the mosquito-like minions of darkness hover and hunt and seek to hurt. Slapping them down is exhausting, demeaning, and distracting.
Which, of course, may well be the strategy of the dark lord, who seeks to fill the spiritual atmosphere with these horrid pests. Frontal assaults of Satan may have their place, but it seems more often than not it is the annoying whine and painful stings of the otherworldly mosquitos that have the greatest effect on the saint straining to move toward Jesus. No wonder Jesus seems determined for us to come to Him and find rest for our weary souls, much like we might scramble indoors at sundown because we know what lurks in the night air.
As the long season of spiritual battle, however private it might well be, has unfolded, I have found that the citronella proving most effective for the fight is that rich collection of promises found in the Writings of God. "For God gave us not a spirit of fear but of power and love and self-control" (2 Timothy 1:7). "Those who look to Him are radiant, and their faces are never covered with shame" (Psalm 24:5). "The LORD will fight for you, and you have only to be silent" (Exodus 14:14). "He who is in you is greater than he who is in the world" (1 John 4:4). "But the Lord is faithful. He will establish you and guard you against the evil one" (2 Thessalonians 3:3).
Should you find the evil one ramping up his efforts as the holy heat of The Moving God is intensifying, now with mosquito-like pricks ravaging your spirit, leaving you worn, hurting your perspective, and making you want to hide, then revisit the promises of God and claim them with boldness and faith. Those tiny devils that fly around your patio at night are annoying enough, and, if we are lucky the occasional slap-down is sufficient to help. But for the ones that come from the dark side it is the Word of God that suffices.
And His promises never fail.