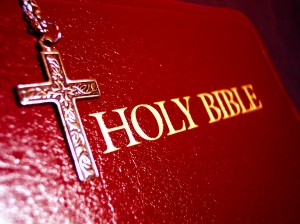 It is with an abiding sense of weariness that I read about Pastor Marc Grizzard's plan to have a "Bible-burning" this coming Halloween night. The reason that the North Carolina pastor desires to burn Bibles? They are not the King James Version, which, in his mind, "is God's preserved, inspired, inerrant, infallible word of God . . . for English-speaking people." As if that were not enough, however, not only will a variety of non-King James versions of the Bible be burned, but so will a plethora of books written by authors ranging from Billy Graham to Rick Warren.
All of this is not only the height of arrogance, but it is the epitome of ignorance; particularly this near idolatry of the King James Version of the Bible. And, frankly, that is essentially what it boils down to for the so-called King James Only crowd: idolatry. For years I as a pastor have encountered people deeply wounded and confused by the King James Only movement. These wounded people remind me of the bleeding woman of Luke 5 whose fear to be recognized by Jesus was largely because of her dread of the rabbis who in their hubris elevated their ideas of the Law over and above the God of the Law. This is a deep shame. And I grieve because of it.
Do not misunderstand me here. I personally love the King James Version of the Bible. I own several copies and frequently read the KJV for personal devotion or for study. I am also sensitive to the fact that many in the audience to which I preach use the King James Version. As a result I will often reference it in the midst of my sermons. Generally speaking, the King James Version is an excellent translation, and it certainly is a masterpiece of the English language. There are times when its rich and lofty language uniquely resonates with me and with hordes of others who value its genius. Indeed, there are many passages of Scripture that I have memorized throughout the years from the King James Version. When I bring those passages to mind it is in the old English.
But to suggest that the King James Version is the inspired and inerrant Bible for the English speaking people is ludicrous. If one wishes to discuss the merits of its translation relative to the other fine (or not so fine) English translations, that is acceptable. But to anoint the KJV as God's unique revelation to English speakers is to do something that has absolutely no basis theologically, philosophically, historically, or for that matter, logically. Among many reasons are these:
First, such logic must then assume that every language has its own, unique inspired and inerrant translation of the Greek and Hebrew texts. Thus, Chinese and Hindi and the tribal tongue of the Fore people of Papua New Guinea must have their own inerrant and inspired Bible translation. Heaven forbid that Wycliffe Bible Translators produce a second or refined version of the Fore New Testament. They might then be heretical.
Secondly, such logic must suggest that any English version of the Scriptures prior to the King James was somehow unworthy. Thus, Tyndale's Bible or Coverdale's Bible or the Geneva Bible or still others must have themselves been lacking God's sanctioning. Those believing in the inspiration of the King James Version must believe that God, thankfully, intervened in the English-speaking world and put upon the royal court of England the burden to acquire a translation that was inerrant and worthy.
Thirdly, the original King James Version included the Apocrypha, a collection of books that throughout the centuries have been generally recognized as not being inspired. Even ardent King James Only proponents refuse to accept the Apocrypha as inspired works.
Fourthly, such logic assumes the King James has no errors, but this is certainly not so. In fact, it was a work full of errors, so much so that there were several editions and revisions made in its general infancy simply to correct them. The so-called Wicked Bible is one example, an edition of the King James that was widely published, which omitted the word "not" from the seventh commandment regarding adultery. Furthermore, within a generation of it's initial publication scholars found upwards of thousands errors to be addressed; translation errors, printing errors, etc. Indeed, todays copies of the King James generally differ, albeit slightly, from one another, depending on which publishing house one is buying from. Additionally, there were mythical images placed within the King James Version that simply reflect poor translation. There are several references to unicorns, for example, which would have been better noted as wild oxen. Such things come off quaint, but not accurate.
There is more to be said, but these few things suffice for now. Every translation will have its short-comings; not just the King James. But therein is the whole point. Translations are imperfect representations of the Greek and Hebrew texts handed down throughout the centuries. Nearly all of them strive toward a faithfulness and dignity that is worthy of so great a Savior as Jesus, and yet all of them have their limitations. Thankfully, however, the reflection of the ancient texts is of a quality that still sets Bible translation in general apart from the translation of many other kinds of ancient works.
I suppose what troubles me the most is the near worship of the King James Version, and the utter castigation of those who those who do not share such a commitment to it. There is something abhorrent to me about this, something that is quite twisted, and, frankly, quite removed from the exhortation of Paul to Titus as recorded in Titus 3:9: But avoid foolish questions, and genealogies, and contentions, and strivings about the law; for they are unprofitable and vain (KJV).