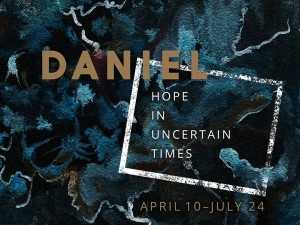 April 10 we at New Hope Church will be stepping into a new sermon series entitled, "Daniel: Hope in Uncertain Times." There will be much emphasis, particularly in the later chapters, regarding God's unfolding plan for the ages—prophetic passages that will help us to more fully appreciate God's sovereign control of time and space and the way His redemptive plan impacts our lives.
Moreover, we will get to know this remarkable disciple named Daniel, a courageous and godly man whose life in the public square was used of God in the midst of one of the most corrupt and immoral cultures the world has seen. As we set our sights on this man, we will learn more fully what is the essence of moving toward God and taking others with us—loving God supremely and loving our neighbor as ourselves.
Lastly, we will discover that in the midst of a messy and broken world—like the one in which we find ourselves today—God is still in complete control. We do not need to be afraid. He holds the nations in the hallow of His hand, and we can completely—without hesitation—trust Him.
Pray for me as we move together through this marvelous Old Testament. Also, pray that we will never recover from the life-changing truth that our God reigns supreme over everything—including our own lives.