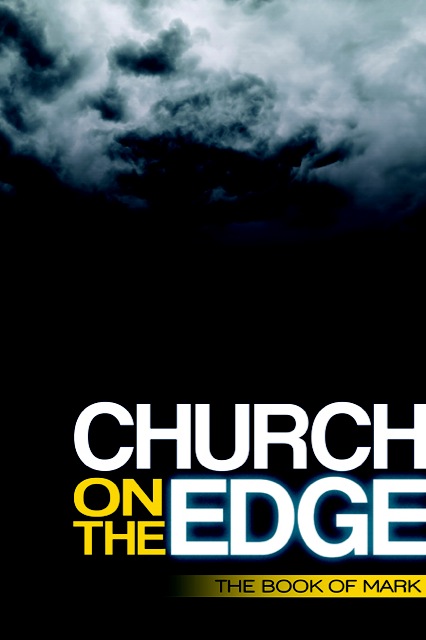 It was a restless hamlet in South Sudan along the Ethiopian border. A few short years ago I was there leading a pastors' conference with the elders and pastors from various tribal groups from the region. When I asked them the best way I could help them their forceful plea was for me to tell them how to empower their churches in the event war breaks out again with the government in Khartoum. "This time we are not going to run," they boldly declared. "Help us, therefore, to equip our people to follow Christ even in the midst of war."
Who am I that I should dare speak into such a sobering matter? But as I processed what they were asking it became evident to me that there might be no better place to spend our time than in the Gospel of Mark found in the New Testament. It is a perfectly-suited message for the church living on the edge.
The reason is found in its historical context and its related message. The great apostles Peter and Paul have been executed. Their protege, Mark, is now the "go-to" shepherd and leader for the church in the city of Rome. Nero's stormtroopers move through the slums at night pulling Christians from their beds and pouring hot tar on them. Then the stormtroopers impale them on stakes, raise them into the air, and light them afire so they can serve as the streetlamps for the Roman capital. So brutal and deadly was this effort, the Christians are coming to Mark in droves asking, indeed, begging, for an answer to one simple question: Since they're systematically killing us off, is this Jesus thing worth it?
The Gospel of Mark is Mark's pastoral answer to that penetrating question.
One does not have to be living in the volatile climate of southern Sudan to be living on the edge. Nor does one have to live in Nero's Roman Empire. Indeed, the church is living on the edge today in places like Fargo, North Dakota, or Cairo, Egypt, or Vancouver, British Columbia, or Hong Kong, or Oslo, Norway. In a world that is at once spiritually hungry but loathing of Truth, we are on the edge of utter irrelevance and voicelessness, too easily concerned about not offending anyone. In a society hyper-stimulated by harsh political rhetoric and a blue-red divide, the church is on the edge of frolicking in political mud, seemingly convinced morality can be legistlated and Jesus will arrive on Air Force One. In a world wherein families are spiraling out of control because of sexual choas and selfish ambition, the church is on the edge of collapse because it really looks no different. In a world convinced that comfort and security is a divine right, the church, believing this too, is on the edge of dismissing the true nature of discipleship. In a world that is ticking like a time-bomb because of still greater conflict in the Middle East and pending global economic disaster, the church is on the edge of either disengagement or dread, naivete or presumption—some quarters weirdly hoping for worldwide chaos with other quarters pretending all is well, that the world is getting rosier day-by-day.
The church is living on the edge of darkness. And the church is living on the edge of opportunity.
Opportunity to shine light in the darkness. Opportunity to reveal fortitude in the face of hardship, thus revealing more fully the power and grace of God. Opportunity to extend a nail-pierced hand to the wounded and weary. Opportunity to display righteousness as a symbol of hope and transcendence. Opportunity to expose the exclusive pathway toward eternal reward, meaningful servanthood, genuine love, and so much more.
A beginning point, at least as far as Mark is concerned, is embracing the reality that the church—believers in Jesus Christ—is called to suffer and die. This, of course, is the utter antithesis of the message given by the prosperity preachers of our day, and it is the utter antithesis of the traditional Americana-utopianism in which we all have picket fences and lapdogs. Questions for the church are these: Would we still be faithful and believe God is good if we had nothing, if we were being brutalized, and if we felt loss to the depth of our being? Would we still have joy? Would we still love those around us . . . even our enemies? Would we still tell the story of grace?
Mark 1:12 finds our Lord Jesus, on the cusp of his public ministry, thrust into the wilderness by the Holy Spirit, at which place he would deal with Satan's sharp barbs and experience isolation, hunger and thirst. For Jesus this would be a catalytic exercise, one that would deepen his resolve for righteousness, dependency, Truth, sympathy, and so much more. He was living on the edge, and he embraced it as an opportunity to embolden and empower himself for his journey to Calvary, at which place he would die to accomplish his Father's purposes for redemption.
And we believers in Christ are called toward the same opportunity—to suffer and even die. The very same Jesus who declared in Mark 10:45, "For even the Son of Man came not to be served but to serve, and to give his life as a ransom for many," invites anyone who would come after him to "deny himself and take up his cross" to "follow" Jesus, and this can really hurt and lead to death. "For whoever would save his life will lose it," Jesus says, "but whoever loses his life for my sake and the gospel will save it" (Mark 8:34-35). Jesus says elsewhere to his followers, "If they persecuted me, they will also persecute you" (John 15:20). The preaching of the ancient apostles included the recognition that "through many tribulations we must enter the kingdom of God" (Acts 14:22). And Peter, one of Jesus' closest companions and disciples, penned in 1 Peter 4:12-13 the following: Beloved, do not be surprised at the fiery trial when it comes upon you to test you, as though something strange were happening to you. But rejoice insofar as you share Christ's sufferings, that you may also rejoice and be glad when his glory is revealed. We cannot help but note the expectation that fiery trials will come upon believers, they will be for us important tests of our faith, that in the face of such things rejoicing should define us, and we will experience the revelation of God's ultimate glory.
In the face of difficulties, damning experiences, pain, suffering, confusion, chaos, and fear, this "Jesus thing" is worth it. After all, he tread the path of suffering, a path that brought great meaning to our lives, which ultimately gave way to eternal glory. So too must that path of suffering be ours; so too shall it give way to eternal glory, and along the way through us the light of Christ shall shine in a dark and desperate world.
Therefore . . . stay the course . . . with your hand in his.
[Click here for more insight on how to process suffering]
* * * * * * * * * *
"Write This Down" is a summary of select teaching moments offered by Pastor Matthew. The preceding summary is from the message "A Call to Suffer and Die," the first message from the series entitled "Church on the Edge," a study through the Gospel of Mark, presented on the weekend of September 23, 2012, at Bethel Church.
[For more on having a relationship with Jesus Christ, and becoming a new person, click here]